Department of Business Administration
History of the Department
The department of business administration, School of Arts and Science of the Bharath Institute of Higher Education and Research commenced its service to the student's community at 2015 to cater the need administrative course which leads towards growth and stability. The academic years 2015- 2018 department of business administration and Department of commerce were together to produce the first batch (2015-2018) of students. By 2018, the departments got separated to showcase the uniqueness, skills of the departments individually. The students are provided with good learning environment through well ventilate and spacious classrooms and the campus is equipped with the library stocked with the latest books on business administration. The department takes all steps to provide the students a fusion of both theoretical and practical knowledge by the experience shared by the eminent people from industries. We are proud to have well experienced Faculty and Infrastructure. The department of business administration is proud of its proactive activities in all academic endeavours.
HoD's Desk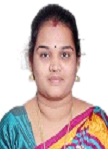 The department of Business Administration has recorded consistent improvement in various activities like research, Academic, Placements, Funded Projects, Events, Performance and so on. We offer well designed programs and curriculum which continuously updated to the competitive environment of the industry to meet the corporate world. In our curriculum, students have to do projects in their functional areas of HR, Marketing and Finance. We organizing workshops seminar, symposium, Industrial visit, National and International Conferences, Sports and Cultural events. So Students acquire knowledge in the field of management effectively in practical manner. The department equips students with high quality of multifaceted skills. Each class mentor will assist the students to identify their own talents and solve their academic and personal problems through counseling. We encourage them to participate Extra Curricular activities to support their carrier development and guide them to participate other college events and so on. The Alumni of the department are well placed in various companies, number of students started own business Venture and others are joined higher studies in abroad.

With this brief message, I welcome you for the wonderful world class learning environment.
Dr.A.Geetha
Prof & Head
Department of Business Administration

Board of Studies
| S.No | Name | BOS |
| --- | --- | --- |
| 1 | "Dr. D. Venkataramaraju Prof & Head of the Department of Commerce and Economics, School of Arts and Science, BIHER." | Chairman |
| 2 | "Dr. A.Geetha Associate Professor, Department of Commerce and Business Administrati School of Arts and Science, BIHER." | Internal Member |
| 3 | "Dr.S.Kamaraj Associate Professor, Department of Commerce and Business Administrati School of Arts and Science, BIHER." | Internal Member |
| 4 | "Mr.T.Manjini Assistant Professor Department of Commerce and Business Administrati School of Arts and Science, BIHER." | Internal Member |
| 5 | "Mr.P.Srinivasan Assistant Professor Department of Commerce and Business Administrati School of Arts and Science, BIHER" | Internal Member |
| 6 | "Dr. R.Devi Associate Professor, Department of Business Administration KCS Naadar College (Affiliated to University of Madras) Chennai -600002" | External Member |
| 7 | "Dr.Venith Vijay Associate Professor, Department of Management Studies Jaya College, Thirunindravur, Chennai" | External Member |
Events
| S.No | Event Name |
| --- | --- |
| 1 | A National Level Webinar on SCIENTIFIC RESEARCH VS SOCIAL SCIENCE RESEARCH" |
| 2 | A National Level Webinar on Innovation and Entrepreneurship Opportunities for Management" |
| 3 | A NATIONAL LEVEL WEBINAR ON "REVOLUTIONIZING BUSINESS THROUHGH INDUSTRY 4.0" |
| 4 | A NATIONAL LEVEL WEBINAR ON STRATEGIES AND STEPS TO CRACK TNPSC GROUP 1 EXAMINATION. (Conducted by EVA SATLIN IAS ACADEMY) |
| 5 | 35 ANNUAL (VIRTUAL) CONVOCATION- NOVEMBER - 2020 |
| 6 | AYUTHA POOJA CELEBRATION – 2020 |
Achievements
ACHIEVEMENTS OF FACULTY MEMBERS
Faculty Name
Achievements
Dr. A.Geetha
Dr.A.P.J Abdul Kalam Achievers award from Dr. Abdul Kalam Trust for Education and Greenery –Jan 2020
Best service award from Eva Stalin Business School
Best Research Advisor Award from PARA- A unit of Benevolent Trust, Pondicherry
Dr. D. ARUNKUMAR
Achiever's Award Dr.AbdulKalam Award Education and Greenery Trust
Best Faculty – 2018 (Navraj Educational and Charitable Trust)
Best Faculty 2017 (Navraj Educational and Charitable Trust)
Best Young Faculty 2015 (Navraj Educational and Charitable Trust)
Ms. A. JHONCY
A. P. J. Abdul Kalam award from abdul kalam trust 2020 January
Mr. MANJINI.T
Dr.A.P.J Abdul Kalam Achievers Award -2020
Ms.D.K. SOWMIYALAKSHMI
Dr.A.P.J Abdul Kalam Achievers Award -2020
Ms. R. LAKSHMI DEVI
Best Researcher Award from PARA- A unit of Benevolent Trust, Pondicherry
Student Achievements
| S.No. | Name | Achieved in | Name of the college or institution | Year |
| --- | --- | --- | --- | --- |
| 1 | Surendar.A | National Level Karate Championship | Ka-shito Ryu Karate Association | 2017 |
| 2 | Surendar.A | South India Intra Dojo Karate Championship | Japan-shito Ryu Karate Association | 2017 |
| 3 | Surendar.A | Karate Championship | Yodha Martial Arts Academy | 2017 |
| | Surendar.A | Karate Championship | International Shotokai Karate_Do Federation | 2017 |
| 4 | Thiraj.M | Cricket Championship | Tamilnadu Rural Sports Association | 2018 |
| 5 | Thiraj.M | International Leather ball cricket Match Series | Leather ball cricket Federation | 2018 |
| 6 | Thiraj.M | Cricket Championship | Rural sports Federation of India | 2018 |
| 7 | Thiraj.M | Red ball Cricket Championship | Tonca Sportsb & Art Academy | 2018 |
| 8 | Thiraj.M | Cricket Championship | Challengers League Association of India | 2018 |
| 9 | Mahender sureshkhonde | Army attachment camp | 54 infantry signal regiment | 2018 |
| 10 | Mahender sureshkhonde | Combined Annual Training Camp | Jain Vidhyashram | 2018 |
| 11 | Surrender.A | Paper presentation in the title of Recruitment and Selection Process with reference to madras cements | BIHER & TECHOWN | 2018 |
| 12 | Ruban bose.B | Paper presentation in the title of job satisfaction and its impact on their performance | BIHER & TECHOWN | 2018 |
| 13 | Lokesh kumar.c.s | Litenesh Istorya | BIHER | 2018 |
| 14 | Subash.s | Litenesh Istorya | BIHER | 2018 |
| 15 | Prithiv raj.v | Litenesh Istorya | BIHER | 2018 |
| 16 | Sarath | Football Competiton | Reliance Foundation Youth Sports | 2018 |
Programs Offered
UG Programmes
Bachelor of Business Administration - BBA
Students Strength
| Batch | Number Of Students Enrolled |
| --- | --- |
| 1st Year | 130 |
| 2nd Year | 75 |
| 3rd Year | 97 |
Faculty Details
| S.No | Name of the Staff | Qualification | Designation |
| --- | --- | --- | --- |
| 1 | Dr.A.GEETHA | MBA, MPhil, Ph.D | Prof & HOD |
| 2 | Dr.D.ARUNKUMAR | MBA,Phd. SET | Associate Professor |
| 3 | Mrs.A.JHONCY | M.B.A., M.Phil. | Assistant professor |
| 4 | Mr.T.MANJINI | M.B.A., M.Com. | Assistant professor |
| 5 | Mr.P.SRINIVASAN | M.B.A.,M.Phil. | Assistant Professor |
| 6 | Ms.D.K.SOWMIYALAKSHMI | M.B.A. | Assistant professor |
| 7 | R.LAKSHMIDEVI | M.B.A., M.Phil. | Assistant professor |
| 8 | Mr.K.VIGNESH | M.B.A | Assistant professor |